Joseph and his TECHNICOLORed dreamcoat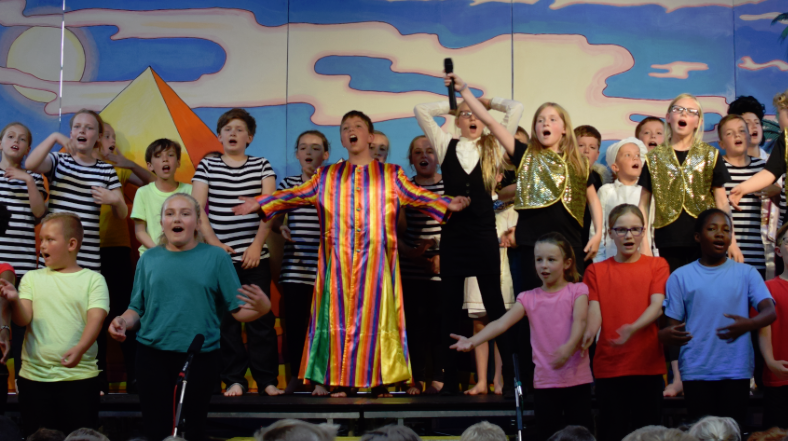 A show like Joseph and his Amazing Technicoloured Dreamcoat doesn't just happen over night. Mrs Well's has put so much effort alongside a very dedicated team:
Mr Patton for the fantastic stage scenery.
Miss Ball and her talented costume and prop makers - Mrs Baker-Padden and Mrs Holyoak.
Mrs Pauline Metcalfe for making and loaning us many fabulous costumes including Joseph's amazing technicoloured dreamcoat, Pharoah, Pharoah's girls and brothers costumes.
Mrs Vernon for ironing the Joseph train and all the costumes!
Mr Ray Ball (Miss Ball's dad) for the fantastic props including the jail, pit and chariot.
Miss Murrell for making the sheep!
Mr Pigford for being our show's lighting technician and for setting the stage up and dismantling it after every practice!
Woodlea Primary school for loaning us the sound equipment and Mr Quigley for being our amazing sound technician for each performance.
Miss Davidson and Miss Wilson for helping with additional Joseph practices.
Mrs White for producing our fantastic colourful programme and Miss Stafford for making the tickets.
Miss Clough and the after school club staff for accommodating after school practices in the hall!
Miss Cooper for her invaluable support and the office staff.
Mrs Warren and her team of make-up artists including Miss Stafford and Miss Davidson.
Mrs Swirles for her amazing work teaching the choir, leading rehearsals and her role of singing coach.
Friends of Newbottle Primary Academy for refreshments at the performances.
For all the staff who have helped at the performances including: Mrs Andrews, Mrs Baker-Paddon, Miss Ball, Mrs Blake, Mr Carter, Mrs Churchill, Miss Davison, Miss Emmerson, Miss Erskine, Mrs Heath, Mrs Hossack, Mrs McGonnell, Miss Moran, Mrs Oliver, Mr Pigford, Mrs Pigford, Miss Stafford, Mrs Seymour, Mrs Vernon, Mrs Warren, Mrs White, Miss Wilson, Mrs K. Wright, Mrs Lee-Shield and Mrs R. Wright.
Finally thank you to Newbottle parents for producing such talented and wonderful children for us to work with.