http://www.derwenthill.co.uk/about/faqs/parents/
Key information
Children should arrive in school as normal on Friday morning and can wear clothing appropriate for the weather and suitable for an outdoor activity.
Children need to bring their cases into school and put them in their year group practical area.
If your child requires any medication - please ensure that the personal information form is up-to-date, and hand in medication to Y5/Y6 teacher clearly labelled with your child's name and instructions of dosage etc on the Friday that we leave.
Please ensure that any clothing your child takes is clearly labelled.
Could I remind you that electrical devices are not permitted at Derwent Hill and if mobile phones are taken then these needed to be handed in to a member of staff.
Children are allowed to bring a small amount of money for the gift shop although they will need to be responsible for anything they take as they're in shared dormitories. It's best to take coins.
Specialist equipment is provided so please don't buy new clothing specifically for this trip.
Children will need to take a pair of slippers to wear indoors.
It is also useful for children to take a water bottle, packed lunch box and a torch although these items are not necessarily essential.
If you would like to speak in more detail with me about your child's needs please don't hesitate to contact school and I will arrange a meeting on 0191 553 6566.
Staff attending this weekend's residential are Miss Murrell, Mr Carter, Mrs Wright, Mrs Lee-Shield and Mrs Andrews.
The emergency contact number for Derwent Hill is 017687 72005.
Our next visit to Derwent Hill is Friday 14th July - Sunday 16th July. The bus will be leaving school at 2.30 on Friday and should arrive at Derwent Hill for around 4.00-4.30. The bus will depart from Derwent Hill at 4.00 on Sunday and should return to school for approx between 5.30 and 6.00. This time will be dependent greatly upon the traffic.
Derwent Hill aims to:
Improve self awareness and increase level of personal responsibility.
Develop the ability to work with other people and to contribute to the success of a team.
Improve ability to solve problems and meet new challenges
Increase motivation and appetite for learning, and raise aspirations
Learn to assess and manage risk
All of the activities at Derwent Hill are led by a team of professional tutors. We hope that the children will have an unforgettable experience.
Activities may include:
Canoeing which take place on Derwent Water which is only a short walk away from Derwent Hill. This is a beautiful lake with islands to visit and regular sightings of wildlife.
Rock Climbing & Abseiling
Ghyll Scrambling & Gorge Descents - this is an exciting activity which involves travelling up or down rocky lakeland streams negotiating pools, rock steps and waterfalls along the way.
Mountain Walking - the variety of walks and scrambles is endless, from gentle strolls by rivers and lakes to days out in the high fells. Children can learn about mountain navigation and take in the magnificent scenery.
Big Swing - leaping from a platform high in the trees and swinging out into space is an experience not forgotten.
High Ropes Challenge - with multiple elements there is a challenge at every level; choose from the Gladiator Climbing Challenge, Trapeze Jump or High See Saw.
Ropes Course - this activity does not involve heights but involves balance and determination to complete the circuit.
Orienteering - the sport combines navigation with walking or running to find controls or markers.
Specialist equipment is provided for activities. This includes a waterproof jacket and trousers, walking books, rucksack, wetsuit, spray top, and buoyancy aid for watersports. Click here to download kit list.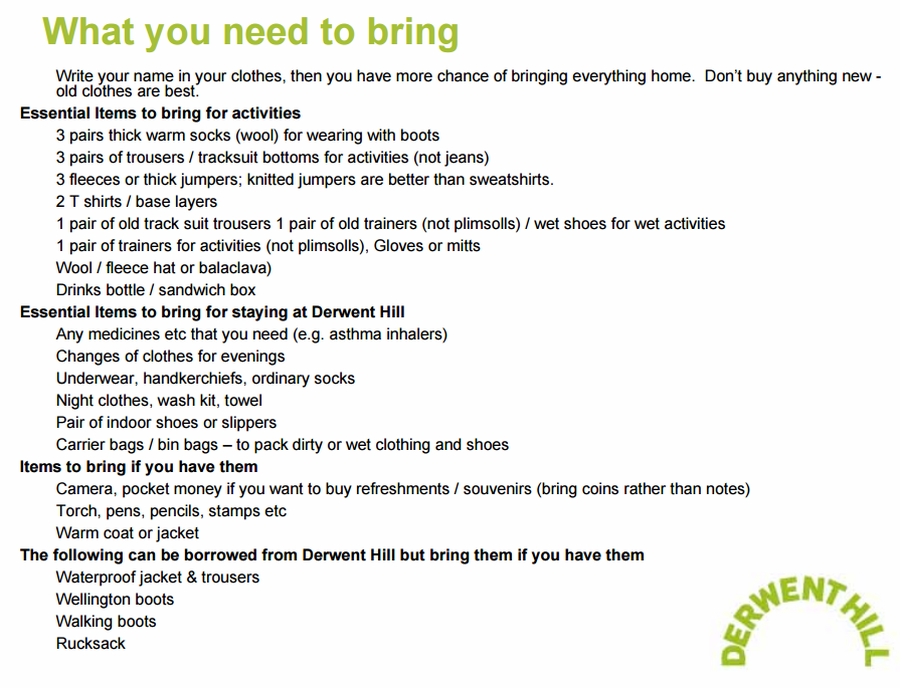 Food and Leisure Time
Within Derwent Hill there is a pool table, table football and souvenir shop which sells gifts and refreshments. The children are also sometimes given the opportunity to purchase ice-cream or hot chocolate after an activity in Keswick or by the lake. The children are responsible for their own possessions, keeping them both tidy, and safe. It is important to remember that the children are in shared accommodation /dormitories therefore it is essential that they do not take along valuable items such as mobile phones, or other electronic devices. It is also best to limit the amount of money your child take; it's often best to take coins rather than notes.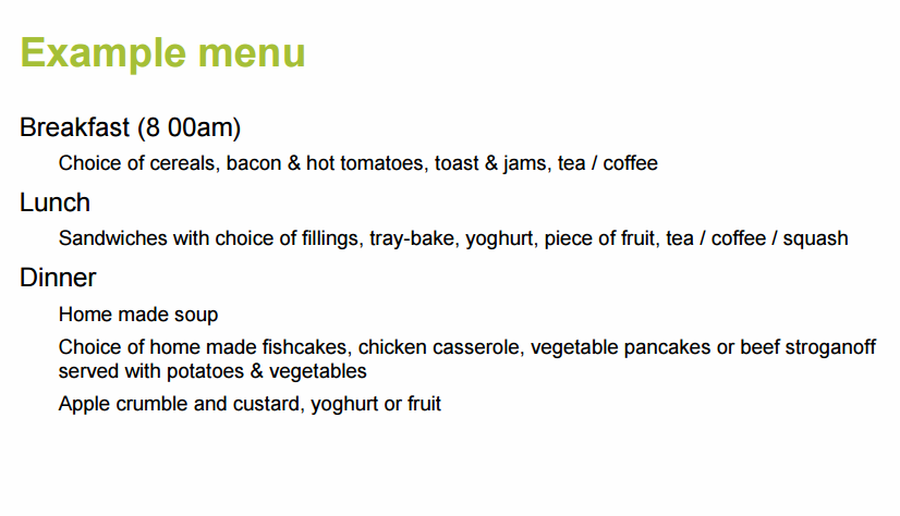 For more information please visit Derwent Hill's Website www.derwenthill.co.uk or speak with Mrs White or another member of staff.
Photographs
Derwent Hill 2015 (Weekend Residential)
Derwent Hill 2015 (Week Residential)
Derwent Hill 2016 (Week Residential)