Wellbeing
At Newbottle Primary Academy, we are committed to supporting the wellbeing of our pupils, staff and parents. We are now working towards the Sunderland Mental Health Charter Mark and are hoping to raise the profile of mental health in our school. Below, we have outlined some ways we are currently supporting children with their mental health in school.
'Time to Talk' Class Assemblies
Last year, we introduced 'Time to Talk' class assemblies. These continue to take place every Tuesday and are an opportunity for children to discuss ways they can support their own and others' wellbeing and become more aware of their own mental health. Last year, we spent each half term looking at one of the five ways to wellbeing.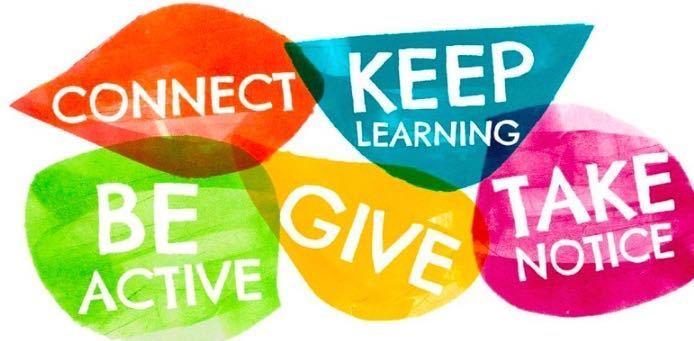 This year, we are focusing on different ways we might struggle with our mental health and strategies we can use to help us to self-regulate.


Wellbeing Areas
Every classroom has a wellbeing area designed to promote positive mental health and to support children to discuss how they are feeling. Each area also has a worry box or worry monster so children are able to voice any worries they may have. All wellbeing areas highlight to the children what they can do if they are worried and who they can talk to. The following poster is displayed in each area: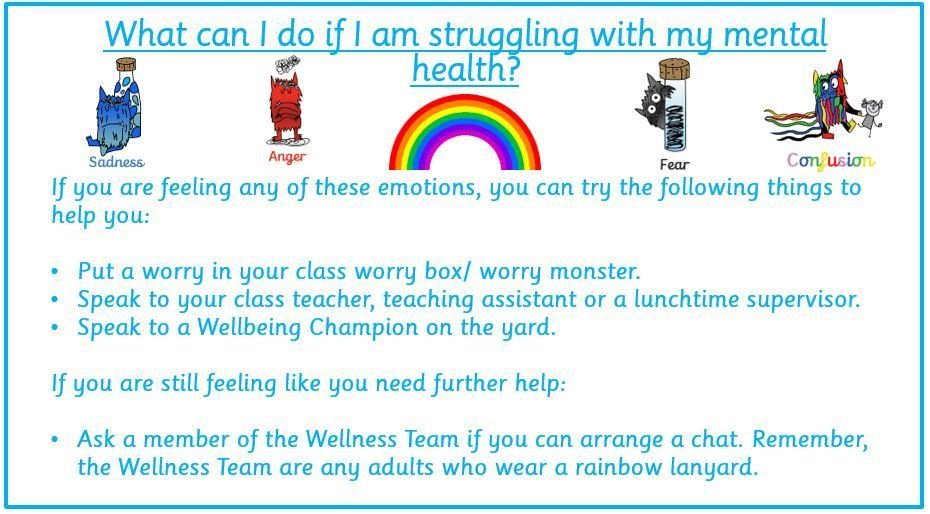 Wellness Team and Wellbeing Champions
Our Wellness Team is made up of staff members from around the different areas of the school. The team are looking at ways to support children, staff and pupils to maintain positive mental health. We also have a group of children (one child from each class) who are Wellbeing Champions and are responsible for looking out for others and reporting back issues to their class teacher. These children wear a high vis jacket on the yard so that other children can easily identify them. These Wellbeing Champions meet once a week with Miss Darby to think of ways we can improve the mental health and wellbeing of our school community.
Wellbeing Warm-Ups and Mindful Minutes
We have tried to incorporate some of the five ways to wellbeing into our school day. Last year, we introduced 'Wellbeing Warm-Ups' and 'Mindful Minutes'. These can be done at any point during the school day and help the children learn strategies they can use to self-regulate. The 'Wellbeing Warm-Ups' help the children to be active and this can be achieved through some short bursts of exercise. The 'Mindful Minutes' help the children to take notice of the world around them and we focus on breathing techniques, yoga, meditation etc.
Some of the resources we use in school, you might want to try with your child at home.